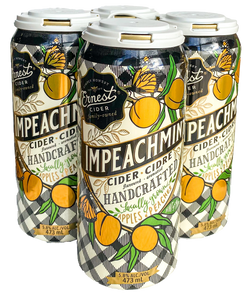 We've added juicy Niagara peaches to our flagship blend of apple cider and a hint of mint to create this crisp cider with the refreshing taste of summer. As always, we sweetened this cider with Wildflower honey from Martin's Sweet Farm.
This four pack from our friends at Ernest Cidery in Schomberg comes with one food item.
Deliveries are twice a week (Monday & Friday) the order must be placed before 12pm for same-day delivery, after that it will be delivered on the next delivery day. 
Cannot be combined with Market beer in mixed packs.