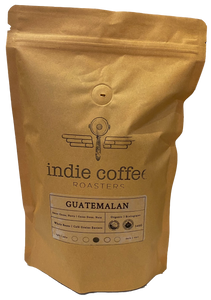 We are excited to have My Indie Coffee apart of our #ShopLocal Market Place!

Guatemalan Blend
Huehuetenango coffee is grown in the highland regions of northern Guatemala, producing some of finest coffee available in the region. Fairly light in body and slightly buttery, this brew offers a sweet floral aroma with a a clean nutty aftertaste.  Grown between 5,000-6,000 ft. above sea level, the Huehuetenango coffee plant thrives in limestone soil at the foot of The Cuchumatanes Mountains protected from frost by the hot and dry winds of Mexico's Tehuantepec plain. 
(Photo does not represent current crop)
Deliveries are twice a week (Monday & Friday) the order must be placed before 12pm for same-day delivery, after that it will be delivered on the next delivery day.